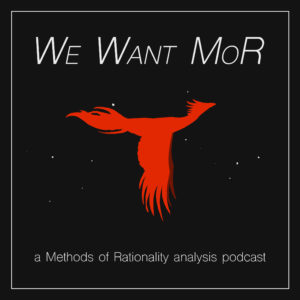 Steven and Brian are joined by the one and only Eneasz Brodski! Enjoy our first in-person recording (we were all seated several feet apart) while we discuss the book so far and Brian theorizes on the future of the story.
---
We are happy to be a part of the Doof! Media podcast network! Check their stuff and support them/us on Patreon! Chat with us and everyone else in the Doof! network on Discord by becoming a supporter!
---
Original chapters, written by Eliezer Yudkowsky, can be read here and the audiobook chapters, recorded by Eneasz Brodski, can be found earlier in this podcast feed and on the website.
---
Next episode will be the short and sweet little spoiler episode coming out later this week. Next week we'll be covering chapters 65 and 66!
---
Album art courtesy of Lorec. Thank you!
Coy manages an RSS feed that compiles the relevant audiobook chapters with the WW MoR counterparts. Just copy and paste that link into your favorite podcast app in the "add by url" option. Thanks, Coy!
Podcast: Play in new window | Download | Embed
Subscribe: Apple Podcasts | RSS