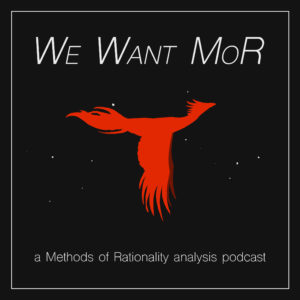 Harry considers the lack of wisdom in spinning a ridiculous plot to try and correct the mishaps from Azkaban.
---
Next week we'll be covering chapters 67, 68, and 69!
---
Album art courtesy of Lorec. Thank you!
Coy manages an RSS feed that compiles the relevant audiobook chapters with the WW MoR counterparts. Just copy and paste that link into your favorite podcast app in the "add by url" option. Thanks, Coy!
Podcast: Play in new window | Download | Embed
Subscribe: RSS