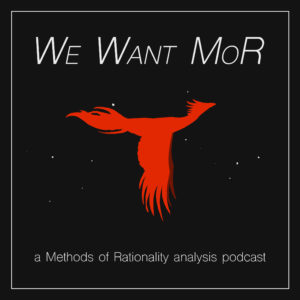 The bullies of Hogwarts learn the true meaning of Chaos!
---
Original chapters, written by Eliezer Yudkowsky, can be read here and the audiobook chapters, recorded by Eneasz Brodski, can be found earlier in this podcast feed and on the website.
---
Next week we'll be covering chapters 76 and 77!
---
Album art courtesy of Lorec. Thank you!
Coy manages an RSS feed that compiles the relevant audiobook chapters with the WW MoR counterparts. Just copy and paste that link into your favorite podcast app in the "add by url" option. Thanks, Coy!
Podcast: Play in new window | Download | Embed
Subscribe: RSS