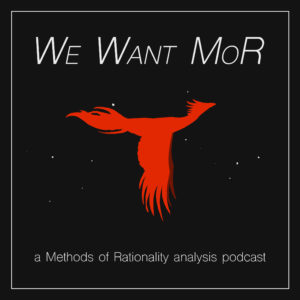 The Scientific exploration into magic begins!
I apologize for the delay in getting this out, and the confusion with a dead link for most of a day. I hope the Longest Episode So Far makes up for it.
---
Original chapters, written by Eliezer Yudkowsky, can be read here and the audiobook chapters, recorded by Eneasz Brodski, can be found earlier in this podcast feed and on the website.
---
In next week's episode, we will be covering chapters 23 and 24.
---
The Slate Star Codex post I keep referencing but forgot the name of: I Can Tolerate Anything Except the Outgroup
One of the posts, not the one I was thinking of in the episode, Absolute Authority
---
---
Album art courtesy of Lorec from The Bayesian Conspiracy podcast's Discord. Thank you!
Coy on the same Discord manages an RSS feed that compiles the relevant audiobook chapters with the WW MoR counterparts. Just copy and paste that link into your favorite podcast app in the "add by url" option. Thanks, Coy!
Podcast: Play in new window | Download | Embed
Subscribe: RSS